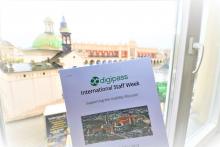 The first International Staff Week of the Digipass Consortium was hosted by the Jagiellonian University in Kraków from the 13th to the 17th of May 2019. Twenty seven delegates represented the six member universities of the Consortium at meetings held in the offices of the eLearning Centre of the Jagiellonian University.
The first day of the meeting began with an ice-breaker activity, followed by a session dedicated to an overview of the project. The delegates were divided into groups according to the four phases of the student mobility life cycle (orientation, pre-departure, during mobility, and after mobility). This exercise helped to kick-start the Digipass project…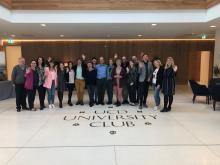 The Transnational Meeting 2 of the Digipass Consortium was held from the 12th until the 14th of June 2019 at the University College Dublin. The event was attended by eighteen delegates from member universities of the Consortium and meetings took place in the O'Reilly Hall of the UCD University Club.
The first day of the Translational Meeting was started by a brief session, during which Shauna Hughes (UCD) and Isabell Majewsky Anderson (UoE) warmly welcomed all the participants and presented the event's agenda. The session was followed by a review of the International Staff…
The DIGIPASS kick-off meeting was held at the University of Edinburgh from December 3-5, 2018. During this first meeting, the consortium discussed the intellectual outputs and events, partner roles, responsibilities, and contributions; as well as budgeting, dissemination, and impact goals for the project. 
The project outputs were structured into work packages and allocated to members, and future plans for the EAC and first international staff week were discussed.  The DIGIPASS consortium was excited to meet new members and looked…